Georgia, located in the Caucasus region, between Black and Caspian Seas, boasts a rich cultural heritage, warm hospitality, unspoiled nature and attractive business environment.
Although lesser known, Georgia is one of the best places to do business in the world. Over the last two decades, the country has become synonymous with successful reforms and rapid development. For eliminating large part of bureaucracy and implementing business friendly policies, Georgia was recognized by international organizations and was even hailed as a "top reformer". As a result, a small country on the crossroads of Europe and Asia is fast becoming a regional hub for business.
Here are just some of the benefits that Georgia offers international companies today
Access to Global Markets
Once a strategically important link on the ancient Silk Road, Georgia, bordered by the Black Sea, Russia, Turkey, Armenia and Azerbaijan, has prioritized reconnecting its trade links throughout the world and has established solid a Free Trade Agreement network.
In 2014, Georgia signed an Association Agreement with the European Union, which included a Deep and Comprehensive Free Trade Agreement ("DCFTA"). In 2016, Georgia also signed free trade agreement with EFTA countries, giving Georgian products duty free access to markets of Iceland, Liechtenstein, Norway and Switzerland. Since then, Georgia has concluded free trade agreements with the People's Republic of China (including Hong Kong) and most recently with UK, which came into force in January 2021. Additionally, Georgia has FTAs with CIS countries that include Belarus, Kazakhstan, Russia, Ukraine, Uzbekistan and Turkmenistan, as well as all its neighbors, Turkey, Azerbaijan and Armenia. As a result, Georgia provides duty-free access to 2.3 billion market.
This trend of opening up more and more markets is ever expanding for the country, with General Schemes of Preference for Georgia being applied by US, Canada, and Japan, resulting in lower tariffs on 3,400 goods exported from the country. With this, a proposed series of FTAs including Georgia-Israel, Georgia-India and Georgia-U.S., are also under development.
Being a major regional transit hub, Georgia offers significant distribution channels and opportunities through newly renovated and expanded transportation infrastructure, which includes upgraded highways, internationally connected railway (connecting China and Turkey) and seaport network. The country's three international airports – Tbilisi, Batumi and Kutaisi – provide direct access to prominent international connections.
One of the lowest operational costs
 Being business friendly country is also reflected on low operational costs. Today, the country holds some of the lowest utility costs in Europe, competitive salaries and one of the lowest taxes, which make Georgia one of the most cost effective location in Europe and the wider region. Over 75% of electricity is generated from hydro and wind, making electricity not only cheap but also green. Since 2017, corporate profit tax on reinvested profit is 0% and social security contribution is only 2%. Georgia's stripped-down and streamlined tax scheme has produced the 3rd lowest overall tax rates in the world according to World Bank Group. Paying taxes is simple and transparent. Companies pay taxes online, through commercial banks, minimizing procedures and bureaucracy. Furthermore, the country has four free industrial zones, offering additional tax incentives.

Taxation is just one of many examples of ease of doing business. In fact, one of the first thing that you notice while getting started in Georgia is how simple and transparent everything is. Georgia ranks 7th in Ease of Doing Business index by World Bank 2020. This is not just a ranking, but rather something you can feel. For example, starting a business or registering a property takes only hours and can be done by visiting a single location. Same easiness and simplicity can be experienced while dealing with any government organizations. Getting permits or licenses or dealing with customs, everything is transparent, fair and most importantly, does not take much time.
The fact that Georgia ranks 1st in terms of – least need to interact with government while doing business – according to Trace International Matrix 2020, is one more proof of the low bureaucracy and pro-business environment that Georgia has created.
Skilled workforce
Georgia has historically been educational center of the region, a good testament to this being the fact that today the country has more than 60 Higher education and 65 Vocational education centers produce fresh set of professionals, with over 150 thousand students graduated over last 5 years. Although impressive in comparison to the small size of the country, Georgia is yet set to strengthen its position as further with the new Kutaisi International University, which, at full capacity will host 60 thousand students. KIU operational model was developed in partnership with Technical University of Munich and will offer vocational, undergraduate, graduate, and post-graduate degree programs, as well as research possibilities in science and technology. KIU will join other high profile universities of regional importance, such as Tbilisi State University, Tbilisi Technical University and Tbilisi Ilia University, which is in collaboration with San Diego State University. Coupled with multi lingual capabilities, well reflected in booming international business services sector, Georgia is ready to offer investors skilled workforce and highly motivated talent pool that are ready to help companies reach their goals and achieve success.
Additional financial incentives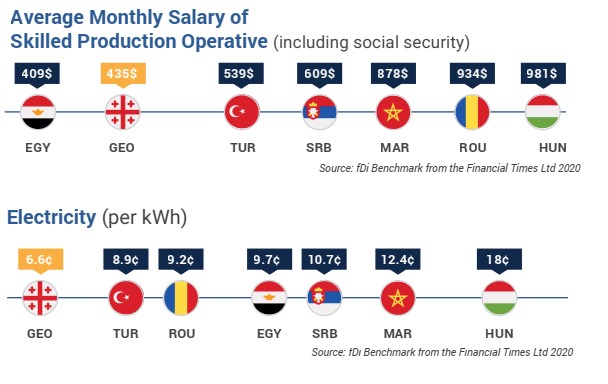 Companies operating in the following sectors: manufacturing of electrical and electronic products; manufacturing of aircraft parts and components, aircraft repair and maintenance (MRO); manufacture of auto parts and components; export of business services / business process outsourcing (BPO); development of warehouses and logistic centers; can apply for a special FDI grant program from "Invest in Georgia". The program is designed to reimburse part of the costs incurred for employee training and infrastructure upgrades. Together with FDI grant, manufacturing projects can acquire state owned property (land or building) free of charge. As for IT and marine companies, looking to service clients from Georgia, corporate profit and personal tax will both be reduced to 5%. Additionally, for manufacturing or hospitality projects, subsidizing loan interest payment or loan collateral is also available.
Welcoming people, unique culture and amazing nature
Georgia is a country of scenic contrasts, diverse climates, rich natural resources and a wide variety of cultural, historic and artistic offerings. The country has something for everyone, the mountains, the sea, ancient cities, protected areas, more than 500 varieties of unique wines and one of the best cuisines in the world. Anyone, either with family or on their own can find their type of activity, be it hiking, skiing, sun bathing on the beach or raving until early morning, Georgia will leave you wanting more and fortunately, you can find that more in Georgia again.
For companies looking to find a place with great access to global markets, talented people, cost competitiveness, ease of doing business or maybe all of the above; Georgia is the right place.
Georgia is a great destination for companies from all around the world, whether it's to enter the Regional market itself, the European market, or the broader Asian markets; and it has an open door policy to help foreign and local companies grow in and via Georgia.